Overview
This digital audio processor is designed to enhance the audio quality in a variety of settings where multiple speakers are present and clear communication is essential. It provides eight MIC/linear inputs and eight linear outputs, allowing you to connect a wide range of audio sources and destinations. Its advanced algorithms, including full-band Adaptive Echo Cancellation (AEC), Adaptive Noise Suppression (ANS), Automatic Gain Control (AGC), and Auto Mixer, work together to produce clear, clean, and resonant sound with a high signal-to-noise ratio.
This processor is easy to use, with no need for additional software. It is ready to use right out of the box, making it an excellent choice for project implementation and testing. It can be applied in a variety of settings and industries, including smart system integration in small to medium-sized conference rooms, instruction recording and distance teaching in education, court trial recording and virtual court trials in the judiciary, surgery recording and video consultations in healthcare, and command center establishment in governmental projects. Its versatility and high-quality audio processing capabilities make it an invaluable tool for improving the clarity and quality of audio in many different types of environments.
Features
Advanced DSP

Manipulate and enhance audio signals with essential modules like Expander, Equalizer, Compressor, and more, ensuring optimal audio quality and control

Quality Audio Conversion

Achieve high-quality audio output with a 48kHz sampling rate and 24-bit A/D or D/A conversion

Echo Cancellation

Clear audio communication and minimized feedback issues with built-in echo cancellation

Adaptive Feedback

Mitigate feedback problems and improve audio performance with adaptive feedback suppression

Adaptive Noise Reduction

Enhance audio clarity and signal-to-noise ratio with dynamic noise reduction technology

Auto Mixer function

Seamless audio mixing in scenarios with multiple microphones and adjustable priority settings
Balanced Inputs and Outputs: Connect various audio sources and devices with 8-ch balanced MIC/linear inputs and outputs

48V Phantom Power Supply: Power condenser microphones with 48V phantom power available for 8-ch MIC inputs

Switching Matrix Routings: Efficient signal routing and management with versatile routing configurations

Basic Control Features: Volume control, metering, and scene control for accurate monitoring and adjustment of audio levels

Programmable GPIO Function: Additional control options through 8-ch programmable GPIO for integration with external devices

Platform Compatibility: Compatible with Win 7 and Win 10, with standard RJ45 interface control for seamless integration

RS-232 Serial Commands Control: Alternative control method for specific setups or legacy systems using RS-232 control
Tech Specifications
Technical
Amplitude-frequency
(20Hz~20kHz@+4dBu)
±0.2dB
THD+N (1kHz@+4dBu)
≤ 0.01%
SNR (linear input)
≥ 90dB
Dynamic Range
≥ 100dB
Channel Level Difference
±0.5dB
Channel Isolation
≥ 80dB
Max Input Level
20dBu
Max MIC Gain
40dB
Input Impedence
20KΩ
Output Impedence
300Ω
Sampling Frequency
48kHz
A/D and D/A Conversion
24Bit
Phantom Power
+48 VDC
Connection
Inputs
8 x Balanced MIC/LINE [3-pin phoenix connector] or
4 x Stereo Audio [3-pin phoenix connector]
Outputs
8 x Balanced LINE [3-pin phoenix connector] or
4 x Stereo Audio [3-pin phoenix connector]
Controls
1 x LAN [RJ45]
1 x RS-232 [3-pin phoenix connector]
8 x GIPO [10-pin phoenix connector]
Mechanical
Housing
Metal Enclosure
Color
Black
Dimensions
17" x 9.8" x 1.8" [440mm (W) x 250mm (D) x 45mm (H)]
Weight
7.3lbs [3.3kg]
Power Supply
AC 100 - 240V 50/60Hz
Power Consumption
9W (Max)
Operating Temperature
32°F ~ 104°F / 0°C ~ 40°C
Storage Temperature
-4°F ~ 140°F / -20°C ~ 60°C
Relative Humidity
20~90% RH (non-condensing)
PACKAGE CONTENTS
1 x Digital Audio Processor
1 x AC 100~240V 50/60Hz Power Cord
1 x 3pin-3.81mm Phoenix Connectors (Male)
1 x 10pin-3.81mm Phoenix Connectors (Male)
4 x 12pin-3.81mm Phoenix Connectors (Male)
2 x Mounting Ears (Wall Mount)
8 x Machine Screws (KM3x4)
1 x User Manual
Interfaces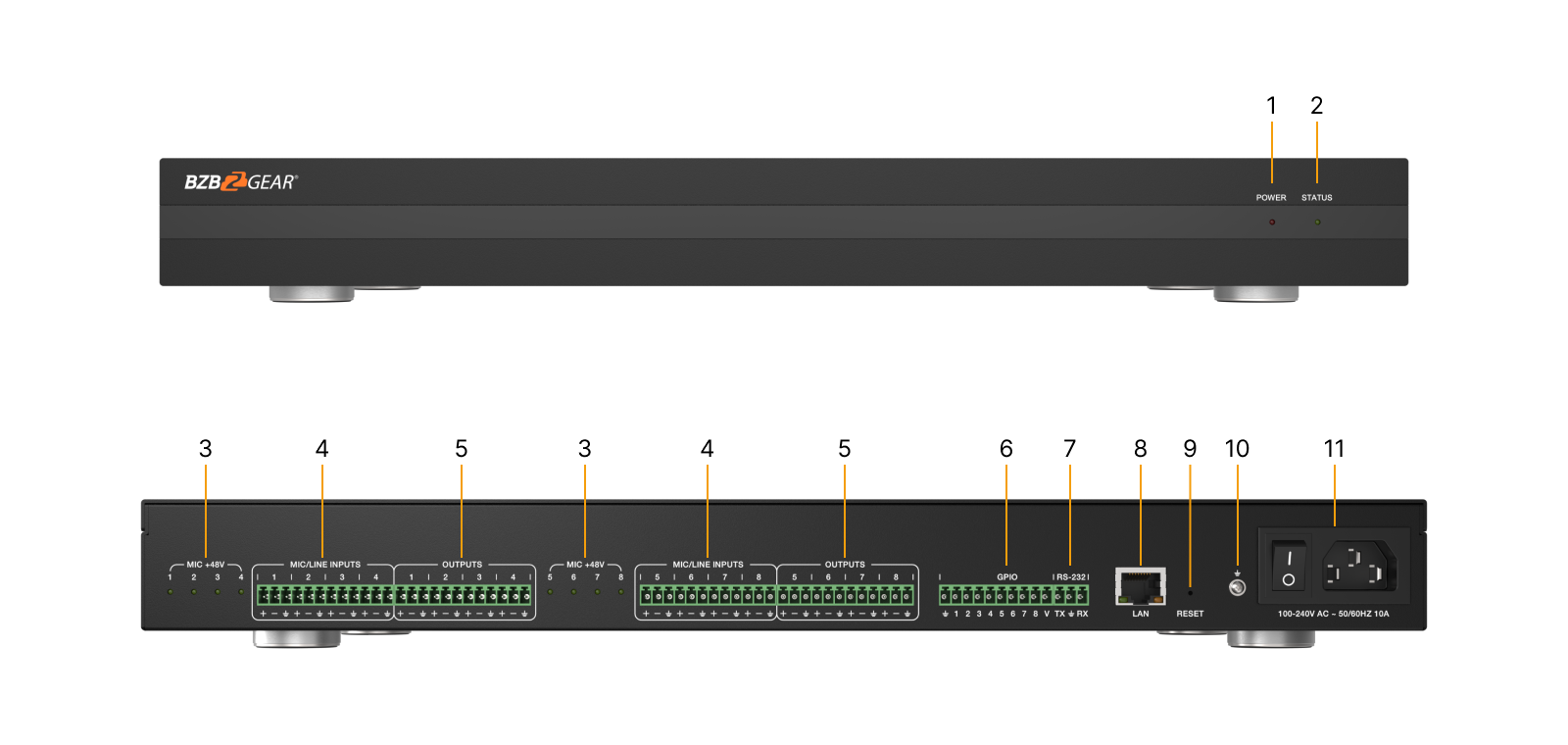 POWER LED: When the device is powered on, the red LED will be illuminated.
STATUS LED: When the device is running normally, the green STATUS LED will flash.
MIC +48V: 8-ch phantom power supply indicators.
MIC/LINE INPUTS: 8-ch balanced MIC/linear inputs, used for connecting audio source devices via phoenix connectors.
OUTPUT: 8-ch balanced linear outputs, used for connecting to an amplifier or speaker via phoenix connectors.
GPIO: 8-ch programmable GPIO interfaces.
RS-232: Connect to a PC or control system to transmit RS-232 control commands.
LAN: Standard RJ45 interface for network connection.
RESET: Used for resetting the audio processor.
GND: Connect outer housing to the ground.
Power Switch & Power Port: Power switch and AC 100-240V power input port.