16x16 4K UHD HDMI Matrix Switcher with Advance EDID, Audio De-embedding, Downscaling and CEC

Overview
Introducing the BG-UHD-1616M, a cutting-edge 4K HDMI matrix switcher that delivers unparalleled control over multiple displays simultaneously. With support for up to 16 sources and 16 HDMI displays, this matrix offers an advanced solution for managing your video and audio needs.
The BG-UHD-1616M supports HDMI 2.0b and HDCP 2.2/1.x, enabling you to enjoy resolutions as high as 4K2K@60Hz (YUV 4:4:4) on all HDMI ports. The maximum video bandwidth of 18Gbps and the ability to downscale 4K video to 1080p ensure that your video quality remains crystal-clear on any display. You can rely on this matrix to deliver pristine uncompressed video transmission to all 16 displays.
In addition, the BG-UHD-1616M supports HDMI audio pass-through up to 7.1 CH HD audio (LPCM, Dolby TrueHD, and DTS-HD Master Audio). You can extract audio via corresponding digital coax ports for each HDMI output, giving you greater flexibility in sending audio to external devices in individual zones.
With multiple control options, the BG-UHD-1616M provides a customizable experience for any use case. You can switch inputs using front panel buttons, an IR remote, RS-232, IP commands, or the web interface, or use free BZBGEAR's Switching Control Application on any device. The matrix also supports ARC, CEC, and smart EDID management, offering 21 factory-defined EDID settings, two user-defined EDID modes, and 16 copy EDID modes. This allows you to tailor the control experience to your specific needs.
Overall, the BG-UHD-1616M is a powerful and versatile HDMI matrix switcher that delivers exceptional performance and control for your AV setups.
Features
Stunning Image Quality

Supports resolutions up to 4K@60Hz 4:4:4

16x16 Video Matrix

View any source on any display

HDCP 2.2

High-Bandwidth Digital Content Protection Supported

HDR

Dolby Vision, HDR10+, and HLG support

Audio Extraction

De-Embed audio using S/PDIF Digital Coax

Multiple Control Options

Front panel buttons, RS232, IR, CEC, IP, and Web GUI
Support 4K-1080P Down Scaler for each output port

HDMI audio pass-through up to 7.1CH HD audio (LPCM, Dolby TrueHD and DTS-HD Master Audio)

ARC, CEC and smart EDID management are supported
Videos
How to Use The NEW BZBGEAR Switcher Control App for AVoIP, Matrix, & Video Wall
BZBGEAR Switcher Control App: Streamlined Matrix, Video Wall, Multiviewer & AVoIP Manager
16x16 Matrix Switcher With ARC, Auto Downscale, Smart EDID and More | BG-UHD-1616M
Easy to Control 16x16 HDMI Matrix Switch with ARC - BG-UHD-1616M
Control Many 4K Displays with an HDMI Matrix Switcher - InfoComm 2022
Tech Specifications
Technical
HDMI Compliance
HDMI 2.0b
HDCP Compliance
HDCP 2.2/1.x
Video Bandwidth
18Gbps
Video Resolution
Up to 4K2K@60Hz (4:4:4)
Color Space
RGB, YCbCr 4:4:4/4:2:2/4:2:0
Color Depth
8-bit, 10-bit, 12-bit
HDMI Audio Formats (Pass-through)
LPCM 2/5.1/7.1, Dolby Digital, DTS 5.1, Dolby Digital+, Dolby TrueHD, DTS-HD Master Audio, Dolby Atmos, DTS:X
Coax Audio Formats
LPCM 2.0, Dolby Digital / Plus, DTS 5.1
HDR formats
HDR10, HDR10+, Dolby Vision, HLG
ESD Protection
Human-body Model:
±8kV (Air-gap discharge) , ±4kV (Contact discharge)
Connection
Input Ports
16xHDMI Type A [19-pin female]
Output Ports
16xHDMI Type A [19-pin female]
16xCoax Audio (RCA)
Control Ports
1xTCP/IP [RJ45]
1xRS-232 [D-Sub 9]
Mechanical
Housing
Metal Enclosure
Color
Black
Dimensions
17.3" (W) x 7.9" (D) x 1.7" (H) [440mm (W) x 200mm (D) x 44mm (H)]
Weight
6.83lbs [3.1kg]
Power Supply
Input: AC 100 - 240V 50/60Hz, Output: DC 24V/3.75A
(US/EU standard, CE/FCC/ULcertified)
Power Consumption
76.8W
Operating Temperature
14°F ~ 113°F / -10°C ~ 45°C
Storage Temperature
-4°F ~ 140°F / -20°C ~ 60°C
Relative Humidity
20~90% RH (non-condensing)
Resolution / Cable length
4K60 - Feet / Meters
4K30 - Feet / Meters
1080P60 - Feet / Meters
HDMI IN / OUT
16ft / 5M
32ft / 10M
50ft / 15M
The use of "Premium High Speed HDMI" cable is highly recommended.
PACKAGE CONTENTS
1 x 18Gbps 16x16 HDMI Matrix
1 x 24V/3.75A Power Adapter
1 x IR Remote
1 x RS-232 serial cable (1.5 meters, male to female head)
2 x Mounting Ear
1 x User Manual
Interfaces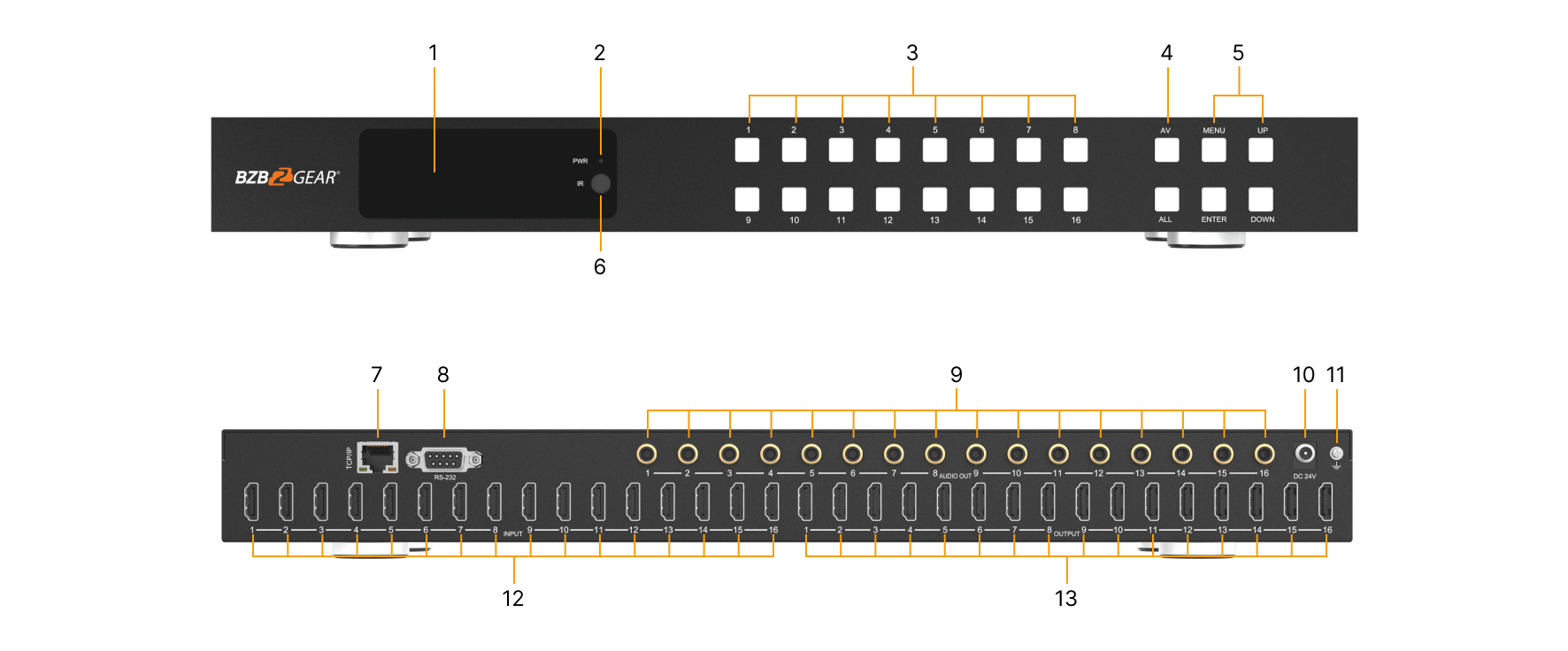 OLED screen:

Displays matrix switching status, input / output port, EDID, baud rate, and current IP address.
Power LED: The LED will illuminate green when the unit is connected to the power supply, and red when the unit is on standby.
Input / Output buttons: Press input button (1-16) first, then press the "AV" button, then press output button (1-16, including "ALL") to select the corresponding input and output ports.
AV / ALL buttons: AV: Switch the signal source to output.
All: Represents all the output ports.

MENU / ENTER / UP / DOWN:

Use these buttons for the following operations in the menu: EDID Check, EDID Setting, Baud rate setting, IP Address Check.

IR Window: The IR receiver window receives the IR remote signal.
TCP/IP port: TCP/IP control port, connect to PC or router with an RJ45 cable.
RS-232 port: Connect to a PC or control system by Din-9 cable to transmit RS-232 commands.
AUDIO OUT 1-16: Coaxial audio output ports. Connect to audio output devices such as audio amplifiers via a coaxial cable.
DC 24V: Connect to a 24V power adapter.
GND: Connect the housing to the ground.
INPUT ports 1-16: HDMI input ports. Connect to an HDMI source device such as a media player or cable box with an HDMI cable.

OUTPUT ports 1-16:

 HDMI output ports. Connect to an HDMI display device such as TV or monitor with an HDMI cable.