1x8 4K UHD HDMI Splitter/Distribution Amplifier up to 230ft over Category Cable w/ IR/RS232 and Audio De-embedding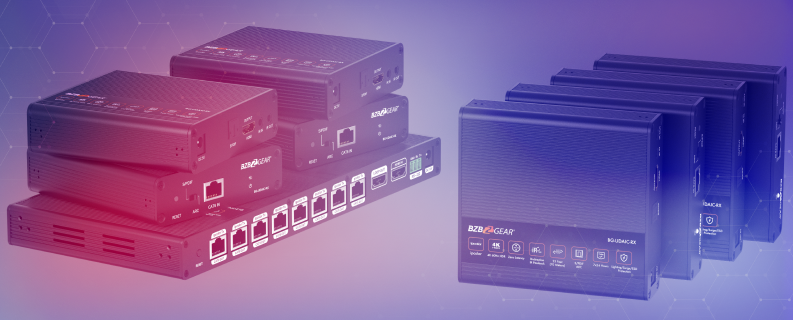 Overview
The BG-UDAIC-E18 by BZBGEAR is a high-performance extender/splitter kit that enables users to distribute one HDMI input to up to eight extender outputs and extend signals up to 70 meters (230 feet) with CAT 6/6A/7 network cables. This solution is ideal for transmitting audio and video signals from a source located at a remote distance, providing reliable and zero-latency connectivity without compromising on quality.
The BG-UDAIC-E18 supports resolutions up to 4K@60Hz, delivering stunning visuals with uncompromising clarity and precision. The extender/splitter kit offers zero-latency transmission, ensuring that audio and video sync perfectly without any noticeable delay. Using a wired connection for this purpose guarantees higher and more consistent image quality, making it ideal for professional applications where quality is paramount.
Moreover, the receivers can output digital audio from the display (ARC) or from the source device via the S/PDIF port. HDMI loop out is also available, allowing users to connect local displays or scale the system effortlessly and conveniently.
The extender/splitter kit offers bi-directional IR passthrough via IR blaster and IR receivers, enabling users to control equipment regardless of distances or obstacles. EDID passthrough and manual EDID setup with a dip-switches is available ensuring correct image resolutions. RS-232 passthrough is also supported, providing easy integration with automation and control systems.
Overall, the BG-UDAIC-E18 is a robust and reliable extender/splitter kit that delivers outstanding performance and flexibility for distributing high-quality HDMI signals over long distances. It is an ideal solution for a wide range of applications, including home entertainment, digital signage, hospitality, and education.
Features
Crystal Clear Images

Supports resolutions up to 4K@60Hz

ARC

Audio Return Channel support

Control

Bi-Directional IR Passthrough

Long Range

Transmit HDMI signals up to 70m

HDCP 2.2

High-Bandwidth Digital Content Protection Supported

Audio De-Embedding

Digital audio provided via TOSLINK connector on receiver
Zero latency transmission

Split and extend 1 HDMI input signal to 8 HDMI outputs

The transmitter supports HDMI loop out

Supports EDID passthrough or manually set the EDID of the product

Supports RS-232 command control

Surge Protection, Lightning Protection, ESD Protection
Videos
Send a 4K UHD Source to Eight Outputs 230ft Away! | BG-UDAIC-E18
Tech Specifications
Transmission protocol
ipcolor
Distribution mode
1 IN 8 OUT
Transmission distance
CAT6/6A/7 ≤ 70m
HDMI signal
HDMI 2.0, HDCP 2.2
HDMI Resolution
480i@60Hz, 480p@60Hz, 576i@50Hz,
576p@50Hz, 720p@50/60Hz, 1080i@50/60Hz, 1080p@50/60Hz,
1280x960, 1280x800, 1280x768, 1680x1050, 1360x768,
1366x768, 1600x900, 1024x768, 800x600,
3840x2160@24/25/30/50/60Hz,
4096x2160@24/25Hz
Audio formats
LPCM/DTS-HD/DTS-Audio/Dolby Digital 5.1
IR
Bi-directional IR passback (20-60 kHz)
RS-232
3 pin: TxD-RxD-GND, follows RS-232 levels
Working temperature
-4~140°F / -20~60°C
Storage temperature
-22~158°F / -30~70°C
Humidity(no condensation)
0~90% RH
Protection
ESD protection
1a Contact discharge level 3
1b Air discharge level 3
Implementation of the standard: IEC61000-4-2
Lightning protection
Surge protection
Power supply
TX: DC 12V/3A
RX: DC 5V/2A
Power consumption
TX<24W
RX<4W
Material
Aluminum alloy material + crystal panel
Color
Black
Weight
TX: 1.6lbs [724g]
RX: 0.46lbs [210g]
Dimension
TX: 10.2"(L) x 4.7"(W) x 0.9"(H) [260.00(L) x 120.00(W) x 23.50(H)mm]
RX: 4.2"(L) x 3.9"(W) x 1.0"(H) [106.00(L) x 99.00(W) x 26.20(H)mm]
PACKAGE CONTENTS
1x HDMI Splitter Extender TX
8x HDMI Splitter Extender RX
1x User Manual
1x DC12V/2A
8x DC5V/2A
1x Terminal Block (RS-232)
1x IR Blaster Extension Cable
8x IR Receiver Extension Cable
36x Mounting Brackets
72x Screw
Interfaces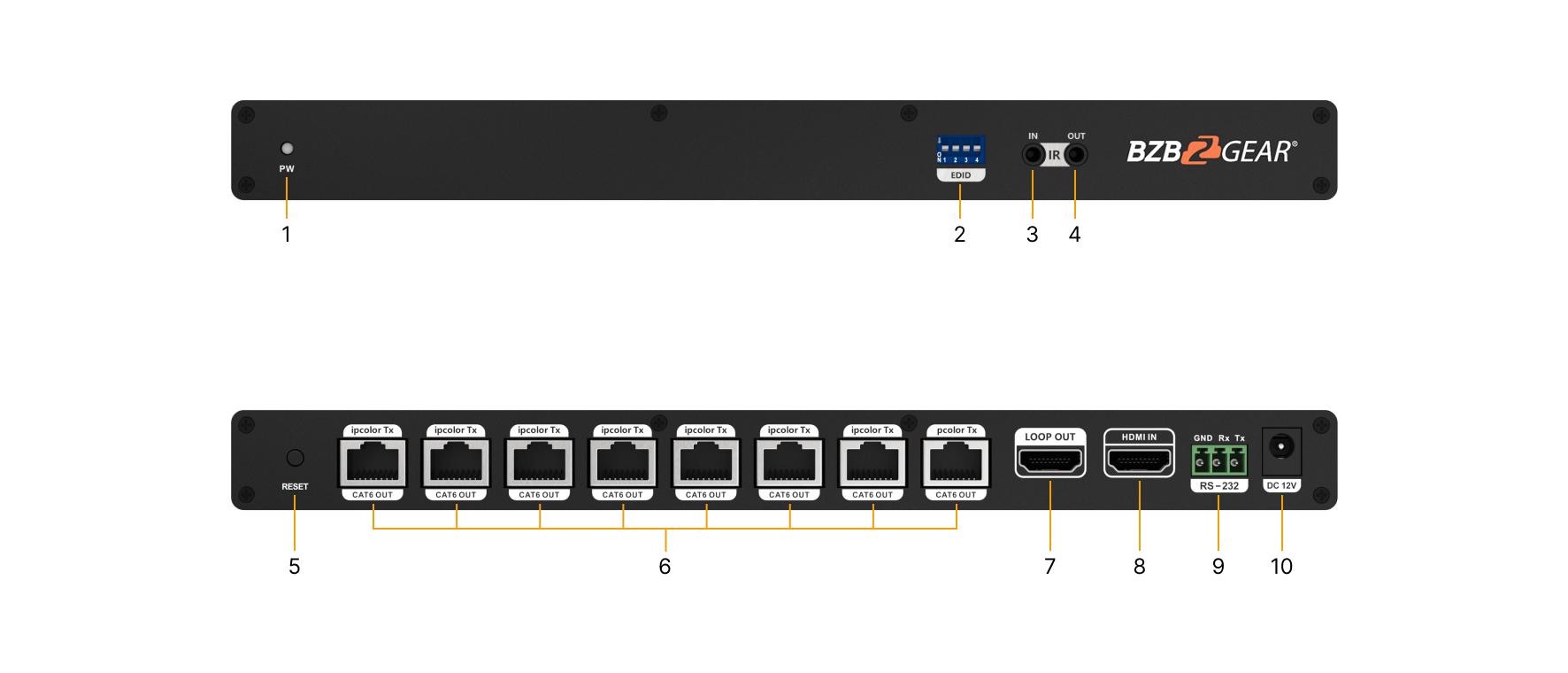 Power indicator:

The blue light will illuminate when powered on.
EDID DIP switch: Set output resolution through the EDID DIP switch.
IR in: Connects using an IR receiver extension cable.
IR out: Connects using an IR blaster extension cable.
Reset button: Restarts the device.
RJ45 output port: Connect using Cat6/6A/7 network cables.
HDMI output port: Connects to a local HDMI display device using an HDMI cable.
HDMI input port: Connects to an HDMI source device using an HDMI cable.
RS-232 Port: Connects to an external device to control the transmitter.
Power: Connects to the DC 12V/2A power adapter.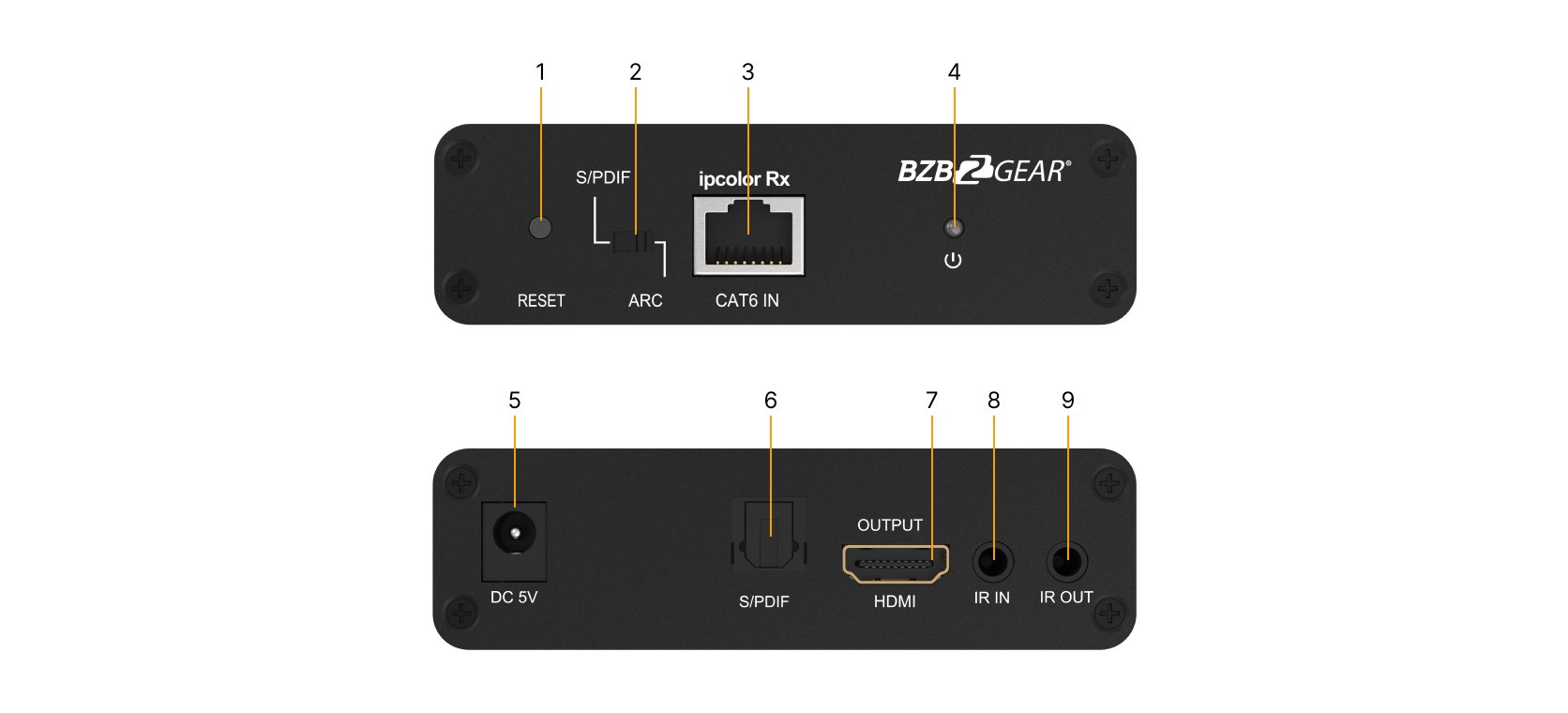 Reset button:

Restarts the device.

Audio switch:

 Choose the audio source (output from the S/PDIF port).
S/PDIF: from the source device.
ARC: from the TV (receiver end).

RJ45 signal input:

 Connect Cat6/6A/7 network cables.

Power/Signal indicator:

When the device is powered on, the blue indicator light will be solid if the HDMI signal is detected. If the HDMI signal is not detected, the light will flash.
Power: Connects to the DC5V/2A power adapter.
S/PDIF output: Connects to an HDMI display device.
HDMI output: Connects to an HDMI display device.
IR in: Connect an IR receiver extension cable.
IR out: Connect an IR blaster extension cable.