Overview
The BG-PSC8X2-REC is an HDBaseT extender designed to work with BZBGEAR's BG-PSC8X2HDB presentation switcher. By taking advantage of the switcher's HDBaseT output, users can extend the output signal at distances up to 230 feet at 4K@30Hz, and distances up to 328 feet at 1080p@60Hz.
Equipped with PoE (Power over Ethernet), this unit requires no power supply to function. The compact housing eases installation, while bi-directional IR passthrough and RS-232 connections extend control to distant displays.
Features
Crystal Clear Images

Supports 4K@30Hz 4:4:4

Third Party Control

Bi-directional IR, RS232, and IP control signals

Power over Cable

Receivers need no power supply

Long-Distance

Transmit signal up to 100 meters (328 feet)

Compact Design

Slim components make a clean installation easy

EDID Control

Multiple selectable EDID modes ensure reliable connectivity
Full HD support: 1080p@60Hz, 1080p@120Hz, 3D 1080p@60Hz and 4K2K@30Hz

Use single LAN cable (CAT-5E/6) to substitute HDMI cable to achieve long distances transmission

Durable metal enclosure designed to last for years
Tech Specifications
Frequency Bandwidth
2.97Gbps
Receiver Input/Output Ports
1x HDMI Female port/2x CAT6
1x IR Tx/1x IR Rx/1x Phoenix
Power Supply
DC 12V
ESD Protection
Human Body Model:
± 8kV (air-gap discharge)
± 4kV (contact discharge)
Dimensions
3.9"(W) x 3.9"(D) x 0.98"(H) [100mm(W) x 100mm(D) x 25mm(H)]
Weight
320g x 2
Operating Temperature
32°F ~ 104°F / 0°C ~ 40°C
Storage Temperature
-4°F ~ 140°F / -20°C ~ 60°C
Relative Humidity
20~90% RH (Non-condensing)
Power Consumption (Max)
10W
PACKAGE CONTENTS
1x HDMI Extender Receiver
2x Wideband IR Tx
2x Wideband IR Rx
1x 24V1A DC Power Supply
1x Operation Manual
2x Phoenix Connector
4x Mounting ears
Interfaces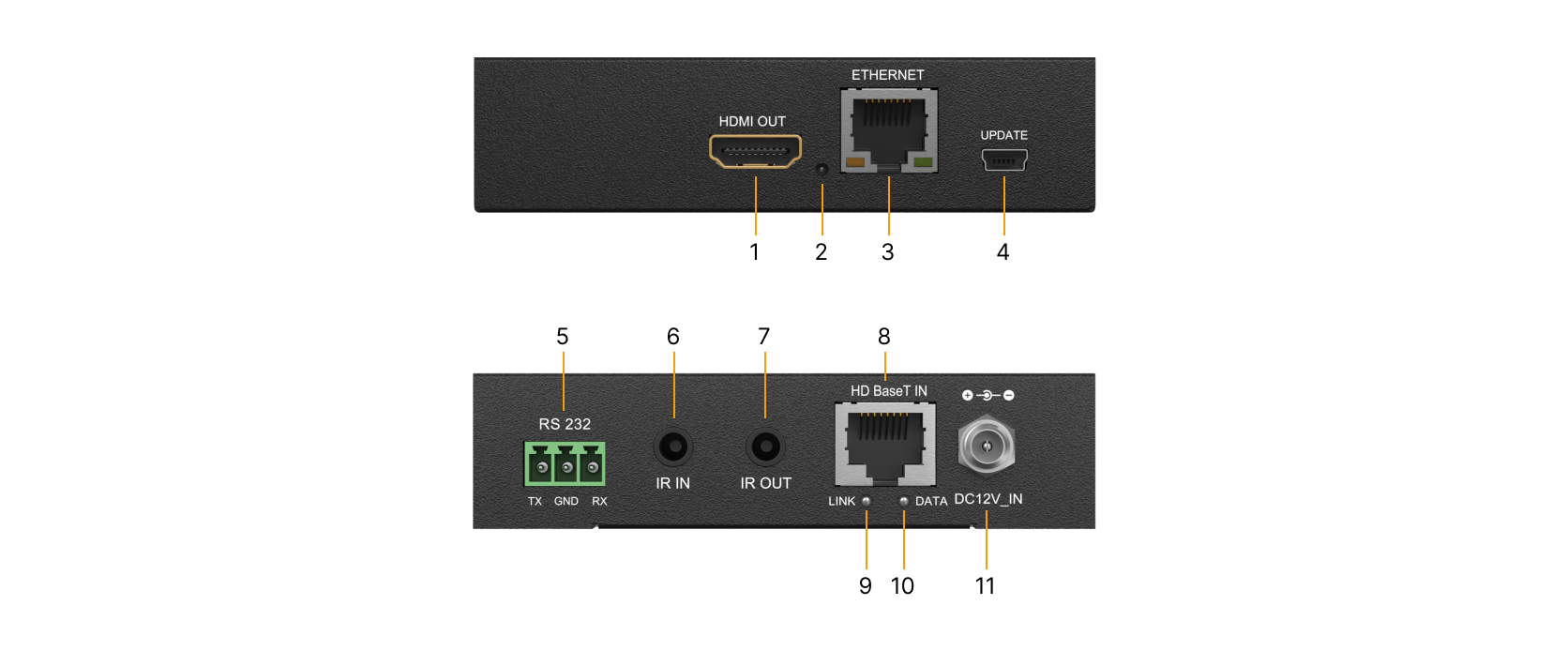 HDMI OUT:

HDMI output port. Connect to the HDTV or monitor with an HDMI cable.
OUTPUT LED: This red LED illuminates when the TV plugs in with an HDMI cable.
ETHERNET: It provides Internet connection from transmitter or to transmitter.
UPDATE: Upgrade the software.
RS232: Phoenix jack provides a serial port control signal from transmitter or to transmitter.
IR IN: Channel 1 IR Transmitter. Connect with Wideband IR Tx.
IR OUT: Channel 2 IR Receiver. Connect with Wideband IR Rx.
HDBaseT IN: RJ45 female HDBaseT signal input port.
LINK LED: Light will illuminate indicating a link with the base unit is made.
DATA LED: LED will flicker when data is being transmitted.
DC IN: Plug the 12V DC power supply into the unit.