2x1 8K UHD Ultra Slim HDMI 2.1 Switcher (8K60, 4K120Hz 4:4:4 10bit)

Overview
The 8K 2x1 HDMI 2.1 switcher is a versatile device that allows you to switch between two HDMI sources and display the selected input on a single HDMI display. It offers support for high-resolution video up to 8K at 60Hz with 4:4:4 chroma subsampling, providing crisp and detailed images with excellent color accuracy. Additionally, the switcher has a high video bandwidth of 48Gbps, which enables it to handle the large amounts of data required for high-quality 8K video.
This switcher is an ideal solution for those who want to be able to easily switch between multiple HDMI sources, such as a gaming console, Blu-ray player, or streaming device. Whether you're watching movies, playing games, or simply want to be able to easily access multiple sources of content, the 8K 2x1 HDMI 2.1 switcher can help ensure that you have access to the best possible video quality.
For gamers, the ability to display high-resolution graphics at high frame rates is crucial for a smooth and immersive gaming experience. With support for 4K resolution at 120Hz, the BG-8K-HS21 can help ensure that your games are displayed with the highest level of detail and fluidity. This is particularly important for fast-paced games where a high frame rate can make a significant difference in your ability to react to in-game events. Whether you're playing competitively or just looking for the most realistic and engaging gaming experience possible, the 8K HDMI 2x1 switcher's support for 4K at 120Hz can help you get the most out of your favorite games.
Features
Secure Content

HDMI 2.1 and HDCP 2.3 compliant


8K and 4K@120Hz

8K@60Hz 4:4:4 8/10/12-bit, 8K@60Hz 4:2:0 12-bit, 8K@ 30Hz 4:4:4 10-bit, 4K@120Hz 4:4:4 10-bit video support

Audio formats

LPCM 7.1CH, Dolby TrueHD, and DTS-HD Master Audio

2x1 switching

Switch sources at the push of a button or enable automatic switching

EDID management

Seamless scaling for the best results

Compact design

For easy and flexible installation
Support 48Gbps video bandwidth

HDR, HDR10, HDR10+, Dolby Vision, HLG pass-through

VRR, FVA, ALLM

Built-in Equalizer and Driver
Videos
BZBGEAR Webinar Episode 9: Overview of BZBGEAR 8K Resolution Solutions.
Get Your 8K on With BZBGEAR's Lineup of 8K Products at InfoComm 2023!
Award Winning 8K Solutions From BZBGEAR | NAB 2023
Easily Switch Between Multiple HDMI Sources Up To 8K at 60Hz
Big Resolution in a Small Package, 8K 2x1 Switcher | BG-8K-HS21
8K HDMI Switcher Renders Immersive Visual Experience - BG-8K-HS21
Tech Specifications
Technical
HDMI Compliance
HDMI 2.1
HDCP Compliance
HDCP 2.3
Video Bandwidth
48Gbps
Video Resolution
Up to 8K@60Hz 4:4:4 8/10/12bit, 8K@60Hz 4:2:0 12-bit, 8K@30Hz 4:4:4 10-bit, 4K@120Hz 4:4:4 10-bit
Color Depth
8-bit, 10-bit, 12-bit
Color Space
RGB, YCbCr 4:4:4 / 4:2:2 / 4:2:0
HDMI Audio Formats
LPCM, Dolby Digital/Plus/EX, Dolby True HD, DTS, DTS-EX, DTS-96/24, DTS High Res, DTS-HD Master Audio, DSD
Connection
Input
2xHDMI IN [Type A, 19-pin female]
Output
1xHDMI OUT [Type A, 19-pin female]
Mechanical
Housing
Plastic Enclosure
Silkscreen Color
Black
Dimensions
2.4" (W) x 2.4" (D) x 0.47" (H) [60mm (W) x 60mm (D) x 12mm (H)]
Weight
0.07lbs [31g]
Power Supply
USB 5V
Power Consumption
1.25W (Max)
Operation Temperature
32°F ~ 104°F / 0°C ~ 40°C
Storage Temperature
-4°F ~ 140°F / -20°C ~ 60°C
Relative Humidity
20~90% RH (non-condensing)
PACKAGE CONTENTS
1x 8K Two-Input HDMI Switcher
1x Micro USB Power Cable
1x User Manual
Interfaces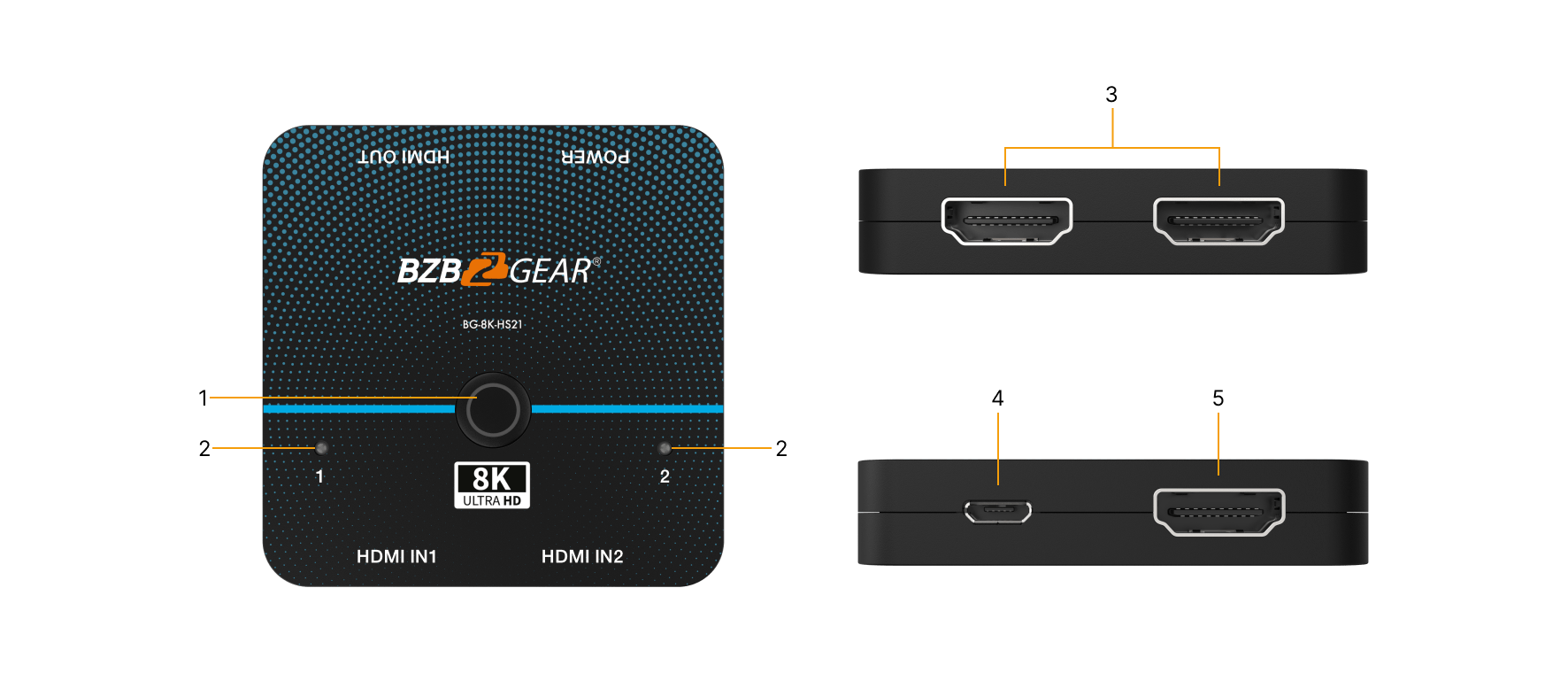 Switch button /Power LED:

 Short pressing the switch button will allow the device to switch between the two HDMI input signals to the HDMI display; long press this button to enter the auto switching mode. When a new device is detected it will automatically switch.
Power: When the device is powered on, the green power LED will illuminate.

Input LED (1~2):

 When an HDMI IN port is selected as the input source channel, the corresponding green LED will illuminate.

HDMI IN1/2 port:

 Connect to HDMI source devices such as a Bluray player or PS5 with an HDMI cable.

POWER:

 DC 5V USB power input port.

HDMI OUT port:

 Connect to an HDMI display device such as a TV or Monitor with an HDMI cable.