4x4 8K UHD HDMI 2.1 Matrix Switcher with Audio De-embedder (8K60, 4K120 4:4:4 10bit VRR, FVA, ALLM support)

Overview
With four HDMI 2.1a inputs and four HDMI 2.1a outputs, the BG-8K-44MA 8K HDMI matrix switch allows users to share up to four HDMI sources with up to four displays. Perfect for when you need to change multiple sources to show on various displays or even select just one source to show on all displays with the press of a button. Professional-grade picture and audio quality are achieved with support for 8K resolutions and various high-quality audio formats.
Play Games at 4K@120Hz!
For gamers, the ability to display high-resolution graphics at high frame rates is crucial for a smooth and immersive gaming experience. With support for 4K resolution at 120Hz, the BG-8K-44MA can help ensure that your games are displayed with the highest level of detail and fluidity. This is particularly important for fast-paced games where a high frame rate can make a significant difference in your ability to react to in-game events. Whether you're playing competitively or just looking for the most realistic and engaging gaming experience possible, the 8K HDMI 4x4 matrix switcher's support for 4K at 120Hz can help you get the most out of your favorite games.
Connectivity and Quality
The BG-8K-44MA supports high resolutions up to 8K@60Hz 4:2:0, 8K@30Hz 4:4:4, and 4K@120Hz 4:4:4 with HDR. With 48 Gbps of uncompressed bandwidth, HDMI signals are routed with no loss of quality. All HDMI ports on this matrix are HDCP 2.3 compliant. This device is also equipped with auto Downscaling on all outputs, ensuring compatibility with legacy displays.
The BG-8K-44MA supports Digital S/PDIF and Balanced audio output formats.
CONTROL
The BG-8K-44MA offers multiple control methods including front panel controls, IR remote control, RS-232, or TCP/IP(Web GUI). The included IR receiver allows the unit to be controlled with the included remote while located out of sight for a clean installation.
In addition to a full-featured web interface, the BG-8K-44MA includes control software that can be operated via the RS-232 connection. These interfaces allow users to adjust advanced features like EDID management, mapping, and network settings.
Recommended HDMI Cable
Video Resolution
8K
4K60
4K24
1080P
HDMI Cable Type
Ultra HDMI 2.1
HDMI 2.0
HDMI 1.4
HDMI 1.4
HDMI Cable Length
(HDMI IN / OUT)
3m/10ft
8m/26ft
12m/39ft
15m/49ft
The use of a "Premium High-Speed HDMI" cable is highly recommended.
Features
4X4 Routing

Features 4 x HDMI inputs which can be independently routed to 4 x HDMI outputs

HDCP Compliant

HDMI 2.1a (48Gbps) HDCP 2.3 (and all earlier versions supported)

8K and 4K@120Hz

Up to 8K@60Hz 4:2:0, 8K@30Hz 4:4:4 and 4K@120Hz 4:4:4 8K to 4K or 8K/4K to1080p

Auto Scaling

Down Scaling on all outputs

Control Options

Control via front panel, IR, RS-232, and TCP/IP (Web GUI)

EDID management

Seamless scaling for the best results
HDR, HDR10, HDR10+, Dolby Vision pass-through VRR, ALLM, QMS, QFT, SBTM are supported

Digital S/PDIF and Balanced audio output
Videos
BZBGEAR Webinar Episode 9: Overview of BZBGEAR 8K Resolution Solutions.
Check Out Our Awesome 8K Switchers at InfoComm 2023!
Get Your 8K on With BZBGEAR's Lineup of 8K Products at InfoComm 2023!
Award Winning 8K Solutions From BZBGEAR | NAB 2023
Create The Ultimate Visual Experience with an 8K HDMI Matrix Switch
Award Winning 8K Matrix Switchers Are HERE! 4K @ 120hz or 8K @ 60hz!
8K Experience Amplified with A 4x4 HDMI 2.1a Matrix Switcher - BG-8K-44MA
PACKAGE CONTENTS
1x Main Unit (4x4 HDMI Matrix)
1x DC 12V/3A power adapter
1x Remote control
1x Wide-Band IR Receiver cables
1x CD for user manual & Command list
1x 3 Pin Phoenix terminal plug
Interfaces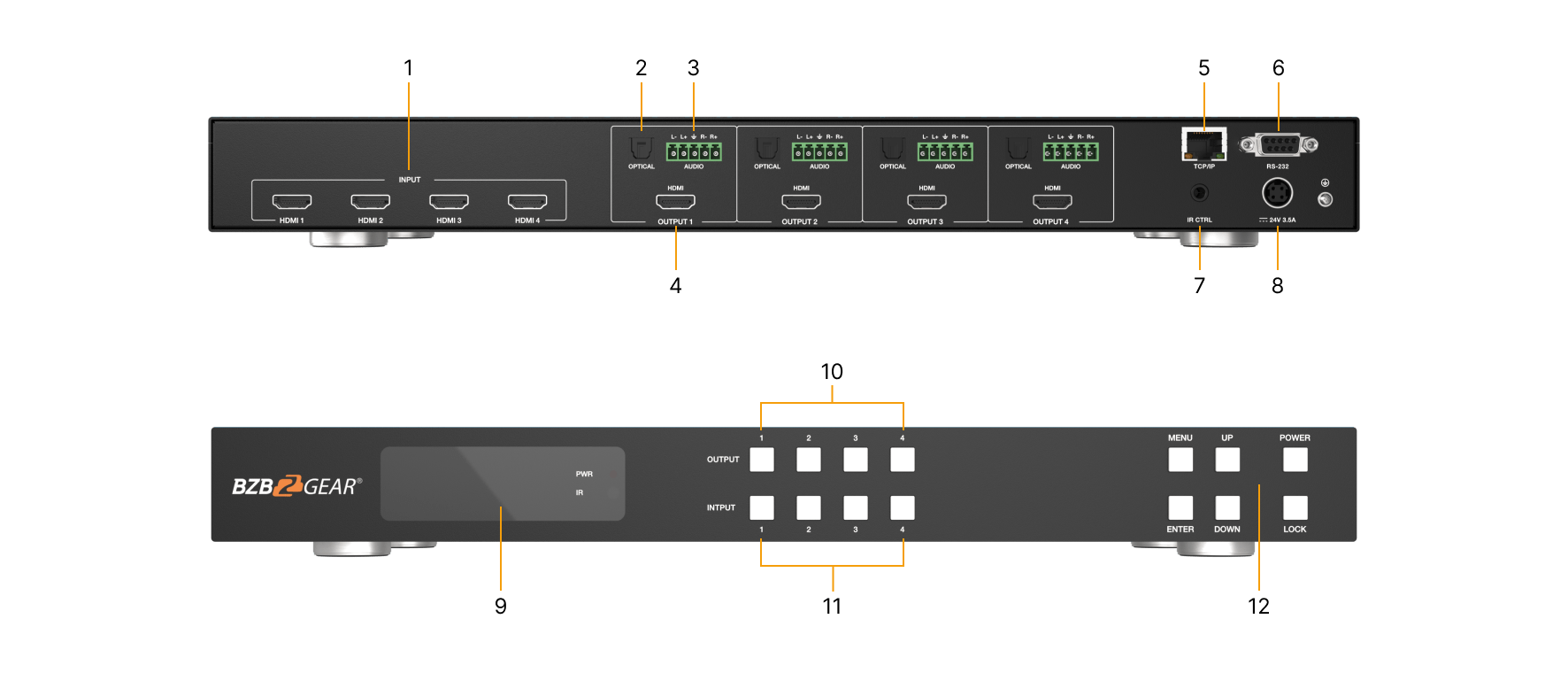 HDMI IN:

HDMI input 1~4.
OPTICAL: Optical fiber audio output port.
AUDIO: 5-Pin phoenix stereo audio output.
HDMI OUT: HDMI output 1~4.
TCP/IP: LAN port.
RS-232: RS232 Port.
IR: 3.5mm IR extension jack.
Power: DC 24V/3.5A Power input port.
LED: Display screen.
Output: Output buttons 1~4.
Input: Input buttons 1~4.
Menu Navigation Buttons: Menu, Enter, Up, Down, Power, Lock.