Overview
One of our best-selling live streaming cameras, the BG-UPTZ-ND offers exceptional picture quality at resolutions up to 1080p@60Hz with a 12x/20x/30x optical zoom lens that enables HD image captures at various distances supported by advanced auto focus algorithms. Thanks to a variety of video outputs including HDMI, 3G-SDI, USB 3.0, and NDI|HX, the BG-UPTZ-ND is ready to power virtually any production or live streaming platform.
One of the best advantages of the BG-UPTZ-ND live streaming camera is its ease of use. Users of this device enjoy utilizing the latest NDI technology and power over ethernet (PoE) functionality. This removes the need for additional video or power cables. The camera is also equipped with a stream encoder that supports H.264/H.265 video compression and the RTMP(S) network protocol. This allows users to easily stream directly from the camera to platforms like Facebook and YouTube. Users of this popular camera also enjoy its precise motor controller for smooth and quiet movement.
Camera and Output
The BG-UPTZ-ND owes its outstanding image quality to its optical sensor, a 1/2.8" high quality HD progressive CMOS sensor. High quality optical zoom in 12x, 20x and 30x is available with this camera, but digital zoom up to an additional 10x is also available. The camera has a field of view of up to 72.5° at 12X (56° for 20X and 65° for 30X lenses).
What is NDI?
Network Device Interface (NDI) is a high performance AV over IP standard that allows anyone to use real time, ultra low latency video on existing IP video networks. The NDI open protocol enables professionals to share video through a local area network (LAN) with video-compatible devices. With a single ethernet cable connection, professionals can merge all stages of production from start to finish. That way, all production tasks and processes will be united, so accomplishing a creative vision will be simple. With the NDI 5.5 tool-kit, users will also be able to connect any audio device as an NDI source with NDI's Audio Direct tool. This adds audio over IP to NDI's revolution.
What is NDI|HX2?
NDI|HX2 is an updated version of NDI|HX1. NDI|HX2 also compresses the bandwidth, but is more efficient than NDI|HX1. With compressed bandwidth, users can have more devices on their LAN without running into latency issues. NDI|HX2 provides good quality output, low bandwidth and medium latency. The main difference compared to NDI|HX1 is that HX2 is truly a native NDI stream - all the way from the source device to the destination. This means it is a 'cleaner' implementation than HX1 and can potentially be more reliable, provide lower latency and give a more flexible connection which shares all the usual features of NDI. Learn more about NDI technology
Benefits of NDI Technology for Your Streaming Project
NDI technology presents a multitude of advantages for live streaming, encompassing high-quality video and audio, minimal latency, scalability, and seamless integration with your current hardware and software setup. It has emerged as a favored option among broadcasters and content creators seeking to provide top-notch professional live streams
Control and Connectivity
This camera supports multiple control options, including WebGUI, NDI, IP VISCA, ONVIF, RS422/485, and cascading RS232 (VISCA/Pelco-P/D). The BG-UPTZ-ND also supports up to 255 preset positions and IR remote control.
PoE and NDI technology eliminate the need for additional power and video cables, making this camera easy to install. The camera also enables operators to embed stereo audio with a 3.5mm jack. Mounting options for walls, ceilings, and tripods are also available for this device, making it an extremely flexible platform for recording and streaming your events. Whether you're recording videoconferencing, remote learning, worship services, sporting events, concerts, or other events, the superior control this popular camera provides will get the job done.
This camera supports SRT, enabling high-quality, low-latency video to be sent reliably over the internet.
Take Control with NDI
The NDI Core Suite is a versatile collection of tools and plugins designed for managing NDI (Network Device Interface) streams effectively. These tools cater to various aspects of NDI usage, including sharing desktop video and audio from your computer to other networked devices (NDI Scan Converter), sending NDI from mobile sources to webcam applications (NDI Virtual Input), and managing the accessibility and visibility of NDI systems and sources on your network (NDI Access Manager). 
Additionally, the suite includes tools for testing and confirming connectivity, calibrating audio and video (NDI Test Patterns), monitoring NDI video sources (NDI Video Monitor and NDI Studio Monitor), and diagnosing network connection performance issues (NDI Analysis). Altogether, the NDI Core Suite provides a comprehensive set of resources for controlling NDI connections.
Features
Zoom

Available in 12x/20x/30x Optical zoom
+ 10x Digital

Control

IP, IR, and cascadable RS232/485 (VICSA/Pelco) + 255 preset positions

Multiple Video Outputs

HDMI, 3G-SDI, USB 3.0, and IP-Streaming working simultaneously

Latest Streaming Tech

Supports H.264/H.265 video compression and RTMP(S) network protocol for Youtube/Facebook
live streaming

Superb Auto Focus

Latest auto focusing algorithms resulting in quick, accurate, and stable focus

NDI

Compatible with NDI® 4.0 from NewTek
Works with all NDI tools from NewTek™

Whisper-quiet operation

PoE LAN port allows for single cable installations

Minimum Illumination 0.5 Lux

Resolutions up to 1080p@60Hz

Live-stream directly from the camera

1/2.8" low-noise CMOS sensor

Multiple mounting options

Field of view from 56° to 72.5° (dependent on zoom)
Videos
How to Connect and Network BZBGEAR PTZ Camera, Video Switcher and Joystick Controller
How to Split A 12G-SDI / 6G-SDI / 3G-SDI Signal - BZBGEAR BG-DA-12GS1x2
Command and Control Various BZBGEAR PTZ Cameras via Newly Updated BG-PTZ-Control App (Full Overview)
BZBGEAR NDI|HX PTZ Cameras Transcend The Boundaries of Live Stream Broadcasts
Universal Live Streaming PTZ Camera for Virtually Any Setting - BZBGEAR BG-UPTZ-ND
BZBGEAR PTZ Cameras Utilize NDI®|HX to Deliver Low Latency Streams
How BZBGEAR PTZ Camera Picture Quality Stacks Up
Ultra-Versatile Live Streaming BZBGEAR PTZ Camera with NDI|HX Suits Any Scenario
How to Facebook Live Stream with an IP PTZ Camera
How to Live Stream on YouTube with an IP PTZ Camera
Tech Specifications
BG-UPTZ-ND12X
BG-UPTZ-ND20X
BG-UPTZ-ND30X
Lens
12X Optical zoom
20X Optical zoom
30X Optical zoom
Horizontal View Angle
72.5°(W)~6.3°(T)
54.7°(W)~3.3°(T)
65.1°(W)~2.34°(T)
Image Sensor
1/2.8" Progressive CMOS
Effective Pixels
2.07 Megapixels (16:9)
Resolution
1080p@60/50, 1080i@60/50, 1080p@30/25, 720p@60/50
Interface
USB 3.0, HDMI, 3G-SDI, NDI/LAN(POE), RS232/485, LINE IN
Pan Rotation
340° (max. speed: 80°/s)
Tilt Rotation
-30° to +90° (max. speed: 60°/s)
Focus System
Auto/Manual
S/N Ratio
≥50db
Preset Position
9 preset positions by IR remote controller, 255 preset positions by Keyboard or PC
Minimum Illumination
0.5 Lux (F1.8, AGC ON)
Exposure Control
Auto/Manual/Priority AE/Exposure Compensation/Bright
Shutter Speed
1/1~1/10,000s
Gain
Auto/Manual
White Balance
Auto/Manual/ATW/One-click/Indoor/Outdoor
Image Effect
Full color/black and white/Electronic flip
Video Output HD
HDMI, 3G-SDI, IP, USB 3.0
Control Protocol
RTSP, RTMP, ONVIF, GB/T28181
Power
12V DC
Power Consumption
Max. 30W (DC 12V)
Operating Temperature
32°F ~ 104°F / 0°C ~ +40°C
Storage Temperature
-4°F ~ 140°F / -20°C ~ +60°C
Camera Dimensions
(L)7 x (W)4.5 x (H)5.9in [(L)178 x (W)115.5 x (H)150.9mm]
Weight
3 lbs [1.38KG]
Color
Black, White
Working Environment
Indoor Only
PACKAGE CONTENTS
1x BZBGEAR BG-UPTZ-ND Camera
1x 12V/1.5A Power supply
1x RS232 control cable
1x IR Remote Control
1x User Manual
Interfaces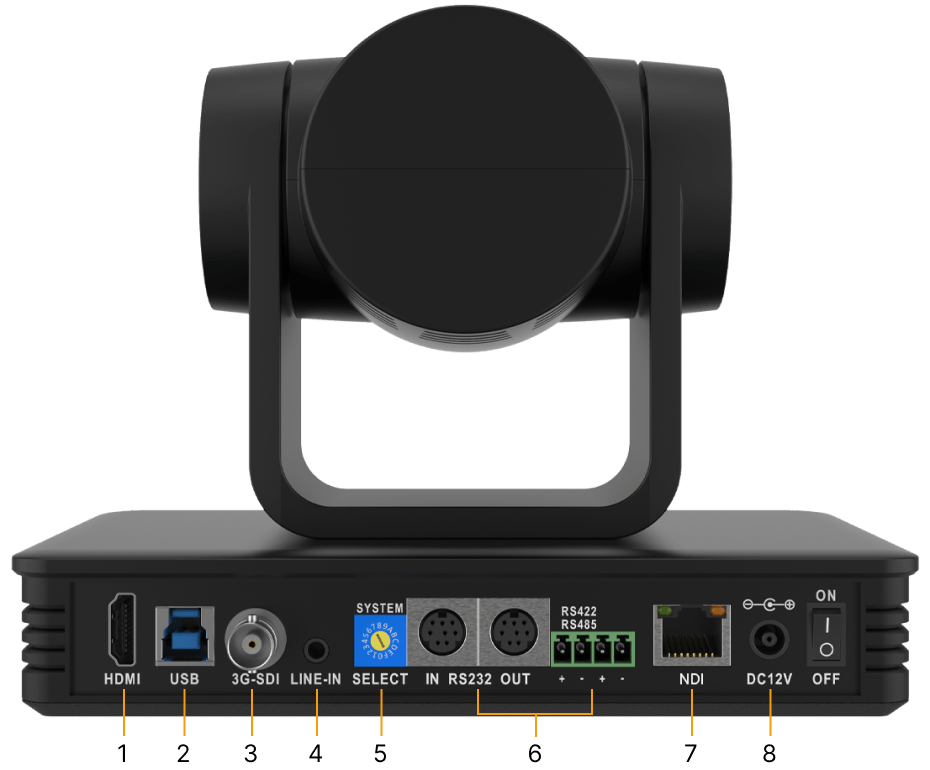 HDMI:

Connect to an HDMI device such as a video production switcher or a video display up to 1080@60Hz.

USB:

Connect USB3.0 type B cable to a PC for plug & play connectivity for any conferencing service like Skype or Zoom, supporting resolution up to 1080@60Hz.

SDI:

Connect to an SDI device up to 330ft such as a video production switcher or a video display at resolutions up to 3G (1080@60Hz) over SDI cabling.

Line-In:

Stereo audio input for connecting mics and embedding local audio into all video output interfaces.

System Select:

Turn this dial to set desired output resolution. See manual for resolution options.

RS-232, RS-422/485:

Connect cascading RS-232 or RS-422/485 to control the camera(s) with a joystick controller or control software.

NDI:

Connect to a network switch via category cable to supply power (PoE), control (TCP/IP or webGUI) and stream (NDI|HX).

Power:

 Connect supplied 12V power adapter.